Instrumentation Cables are specially designed to transmit signals without any external interference. Instrumentation cables come with or without flame retardant properties and are suitable in process control, A/D converters and other modern microprocessor based instrumentation circuits like Data Acquisition Systems, connections to Insruments, Computer Networking, PA Systems, Digital Control / Measuring & Communication Systems. These cables are designed to offer excellent resistance to noise and induction phenomena encountered in instrumentation circuits. Introduction of microprocessor based/computerised instrumentation has demanded stringent quality requirements along with special electrical parameters for instrumentation cables. Very low level electrical signals pass between measuring end and display units/controllers which are situated far off. These low level signals are prone to external noise pickups and heavy silenuation during transmission.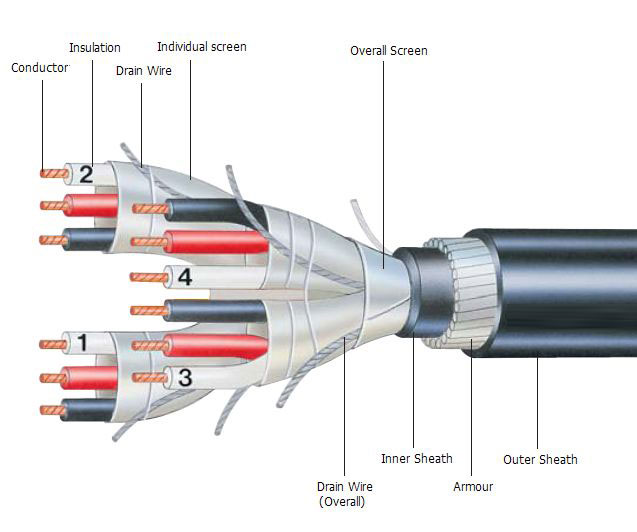 All this means that the cables to be used for instrumentation should be designed and manufactured very carefully, Sriram Cables with its meticulous efforts in maintaining quality, stringent in process control during manufacture and the knowledge of cable designing, is proud to say that it is capable of supplying instrumentation cables meeting any Indian/ International standard or a specific requirement desired by project authority.
CONSTRUCTION
VOLTAGE GRADE
SIZE

REFERRED STANDARDS
Bare Cu/Tinned Cu, PVC/XLPE/HR PVC/LSZH/EVA/LDPE Insulated LSZH/PVC/HR PVC/HDPE/EVA/FRLS Inner & Outer sheath,Armored/Unarmored Individual Screened/ Overall Screened/Tape/Braiding- Al Mylar/Cu Tape/Cu Wire/Pb Braid
300 / 500 / 1100 Volts
1P to 100P -up to 6 sq mm
1T to 100T - up to 6 sq mm and as per client's requirement
EIL -6-52-46, Rev-05, BS: 5308 (Part-1 & 2), BSC 143-0.75
(24/0.2 mm) OAS, IEC 60092-376, BS EN 50288, VDE 0815, VG
95218, NEK 606 and as per customer's specifications.
CONFIGURATION
Multi-core, multi-pair or multi-quad laid up concentrically or in units.
CONDUCTOR
Solid or stranded, tinned, bare or silver-plated annealed, high conductivity EC grade copper, sizes ranging from 0.5 sq. mm to 2.5 sq. mm. 
INSULATION
PVC, Solid PE or special thermoplastic materials, heat resistant PVC with an operating temperature range of 85ēC to 105°C. Halogen free polymeric or elastomeric insulation may also be provided. Core identification through colour coding or character printing.