CONSTRUCTION
VOLTAGE GRADE
SIZE

REFERRED STANDARDS
Bare cu/Tinned cu, PVC/HR PVC/FRLS/ FR/LSZH Insulated, PVC/HR
PVC/LSZH ( for Multi Core)
300 / 600 / 1100 Volts
House Wire - 0.5 sq mm to 6 sq mm
Multi Core - 2C to 24C - 0.5 sq mm to 400 sq mm
Single Core Flexible - 0.5 sq mm to 1000 sq mm
Building Cables - 0.5 sq mm to 6 sq mm and as per Client's requirements


IS:694, BS:-6004, BWS:7655, BS:6500, BS:7211, IEC-60227 - 1, 2, 5 CSA-22.2 No.38-05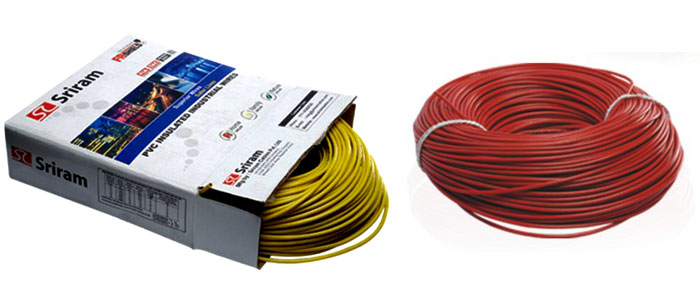 Everything that you can think of works with wires. Wi-fi networks, lamps, fans, air conditioners, bells, refrigerators: wires are everywhere, working like the nerves of your house.  
It is with this understanding and inspiration that Sriram Cables has always made the latest advances in wire design  and engineering. Bulding wires from Sriram Cables have outstanding performance characteristics and represent contemporary design. Though designed solely with application and function in mind, our products are nevertheless endowed with a subtle aesthetic. We at Sriram Cables think wires are not just objects, we believe that wires play the role of nerves in the body.  Spread across your premises, empowering appliances, and reaching out to every corner of your house to make it come alive with energy. When you believe this you have designers, engineers, fabricators, and other partners who need to have incredible design and commitment to pursue and create a product that can be trusted, and relied upon.
Just like nerves quickly respond to information that our body is transmitting, good wires work with intelligence, conducting, minimizing losses and maintaining safety and savings along every millimeter of its length. Our wires come with different characteristics to suit residential complexes, schools, theatres and other projects.
Our wires are manufactured using a special PVC compound which is Lead Free, Heat Resistant (LFHR) and Flame Retardant (FR). Sriram Cables are the only wire products in India to be made using Lead Free PVC, which makes them non-toxic and completely safe for users as well as installers. Sriram Cables will last you a lifetime, without any fires, breakdowns or worries. Whilst everything else in life changes, you can be sure our wires will always power your building unchanged. 
RANGE OF BUILDING WIRES
Our building wire range includes:

LFHR FR: Lead Free, Heat Resistant and Fire Retardant


LFHR FRLS: Lead Free, Heat Resistant, Fire Retardant and Low Smoke


LFHR ZHLS: Lead Free, Heat Resistant, Zero Halogen and Low Smoke


Multi Core Round: PVC Insulated Copper Conductor (Flexible) Industrial Cables


Flat Three Core: PVC Insulated Industrial Cable for Submersible Pumps


Single Core Copper Conductor (Flexible)


CATV Co-axial Cables - 75 ohms


Telecom Cables